Maia performs in the classical realm (from solo harp recitals to chamber music and concerti with orchestra) as well as in world music, experimental electro, jazz, pop and a wealth of other genres. You may find classical music repertoire suggestions below. For world music, see Harkan. For pop, see Maia & Mohamed
Concerti for harp and orchestra
Yes, an entire concert on solo harp… Just as breathtaking and varied as a piano recital can be – except more original. Despite stereotypes, the harp is very versatile : its wide palette of tones sets it apart from all the other polyphonic instruments, making it at ease in any style, from early music to very modern contemporary pieces, also crossing over to jazz or pop music!
 In addition to a specialized repertoire composed by harpists (Elias Parish-Alvars, Henriette Renié, Marcel Grandjany, Carlos Salzedo and many others), which is interesting because it uses the instrument knowledgeably, most of the harpsichord, piano, organ and guitar repertoire can be transcribed, allowing for an almost infinite number of programs.
 Maia draws from her extremely extensive repertoire to tailor each program to the audience and occasion. If relevant, programs can be thematic (French music, Through the Eyes of Harpists, Danse, Travel Notebooks, Fantaisies, Virtuose, Sacred Music ) or period—specific (Contemporary music, Baroque music, Romantic music, Impressionist music…)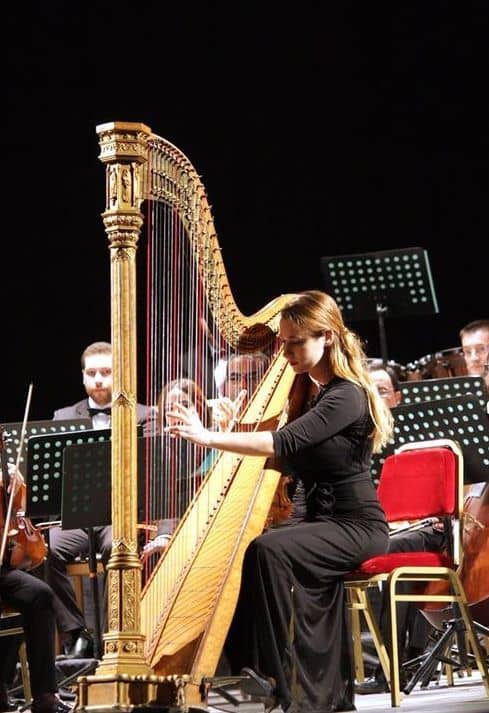 Near endless options here! Maia regularly performs in the following instrumental combinations.
Please do not hesitate to contact us for more details and sample programs.
Frequently Asked Questions
Most frequent questions and answers
The acoustic concert pedal harp is roughly comparable to a piano in volume – loud enough to carry in most classical concert halls, theaters and churches and be heard over an orchestra in concerti. If necessary, concert harps can be amplified or plugged into an existing PA system. For larger venues, outdoor stages or to play with bands, I would recommend using an electro-acoustic harp (an acoustic instrument with microphones installed on the soundboard). For non-classical performances, I often play an electric lever harp.
On stage, I need a minimum of 1,5m x 2m for my harp, bench and if relevant music stand.
Each pedal is assigned a letter of the music alphabet. They are attached to rods that go up the column of the harp and attach to links in the mechanism of the harp's neck. The links move discs on the strings, giving me the ability to play sharps and flats (like the black keys on a piano). To play a C-sharp, I need to move the C pedal down into the lowest position. I can set the pedals to match the key signature at the beginning of a piece, and then move them as necessary while I play.